News
2018 – Tegernsee Mountain Film Festival – Press Kit – PT05 – List of Winning Films 2018
16th Tegernsee International Mountain Film Festival
Winning Films 2018
Great Prize by the City of Tegernsee (€ 3,000,-)
"Aigle et Gypaète – Les maîtres du ciel" (Eagle and Ossifrage – Masters of the Sky) by Anne and Erik Lapied (France)
Prize by the German Alpine Club for the Best Alpine Film in the Category of "Mountain Experience" (€ 1,000,-)
"The Dawn Wall" by Peter Mortimer (USA)
Bergzeit Prize for the Best Film in the Category "Mountain Nature" (€ 1,000,-)
"Wildes Deutschland – Das Erzgebirge" (Wild Germany – The Erzgebirge Mountains) by Uwe Müller (Germany)
Best Film in the Category "Mountain Life" (€ 1,000,-) awarded by the Tegernseer Erdgas-Versorgungsges. (€ 1.000,-)
"Die Wildheuer – Senkrecht über dem Urnersee" (Wild Hay Makers – Vertical above Lake Urnersee) by Beat Bieri (Switzerland)
Otto Guggenbichler Prize for a Junior Filmmaker (€ 1,000,-)
"The Fire within" by Alexej Funke (Germany)
Honourable Mentions by the Jury (non-cash prizes)
"Hansjörg Auer – No Turning Back" by Damiano Levati (Italy)
"Viacruxis" by Ignasi López (Spain)
"La congenialità" (Kindred Souls) by Christian Schmidt (Germany)
Prize for Most Outstanding Camera Work
"Tierra del Viento" (Land of the Wind) by Laura Belinky (Great Britain/Argentina)
Prize for the Special Film
"Das versunkene Dorf" (The Drowned Village) by Georg Lembergh (Italy)
Bayern 2 – Audience Prize (€ 1.000,-)
"The Dawn Wall" by Peter Mortimer/Josh Lowell USA
Small Festival Prize, Audience Prize for the best Children's and Young Adult Film (€ 500)
"Viacruxis" by Ignasi López (Spain)
Great Cinema, Critical Voices and a World Premiere
PT_01_General 09/2018
Tegernsee Mountain Film, 16th International Festival from 17 – 21 October 2018
Great Cinema, Critical Voices and a World Premiere
Visitors of the Tegernsee Mountain Film Festival in October can look forward to great cinema, a world premiere and the usual "delightful mix" of fantastic films. Here, the mountain world does not merely serve as a backdrop, but plays the lead part: as a challenging — and often also endangered — habitat for people and animals, representing the untamed forces of nature and as a brilliant setting for extraordinary achievements.
"A small Huber Boys festival with a world premiere, two great big screen films from the USA, an almost mystical crime film based on Alpine history and a short animation which already earned the pre-jury's highest acclaim." This is how Festival Director Michael Pause spontaneously sums up the 2018 Tegernsee Mountain Film Festival programme. "Add to that a delightful mix of great films within our competition's wide spectrum of thematic categories."
Intense Impressions between Sky and Mountains
Take for instance the fascinating wildlife films by the Lapied family, which have already won several awards in Tegernsee and which keep fascinating us with novel ideas and perspectives. Or the unimaginable sportive achievements by athletes who wield their power around the globe in and above the mountains: paragliding across Broad Peak, skiing extremely steep mountain flanks or clipped into climbing ropes at rock overhangs.
Great Cinema — Moving Portraits
The fact that people often interest us even more than their athletic achievements is evidenced by empathetic movie portraits, be they about the Huber Boys, extreme climber Hans-Jörg Auer or about Tommy Caldwell, who together with his climbing partner Kevin Jorgeson sent the first free ascent of El Capitan's Dawn Wall in the Yosemite Valley ("The Dawn Wall"). This movie portrait not only traces a climbing project of seven years, but also the intriguing biography of a climber who was taken hostage by rebels in Kyrgyzstan — to mention only one unusual detail from Tommy Caldwell's life story.
Another big screen movie competes for the Great Prize of the City of Tegernsee: With breath-taking images and a strong message, "Mountain" fully recreates the fascination of the mountains on the silver screen — and reveals their powerful impact on our lives and our dreams. Speaking of dreams, short films produced with a great amount of creativity are often the ones that open up the biggest space for our own imagination: e.g. a short animation which received high acclaim from the pre-jury or the brief "Imagination" of a boy who doesn't take his eyes off the great freeskiers.
Framework Remains Consistent
By now, more than 85,000 visitors have enjoyed the latest mountain films in Tegernsee — 86 films are on show this year. Although much has been changed and improved over the years, the overall framework remains consistent: "We developed our five-day festival step by step," explains Michael Pause, which according to him ensures a certain amount of routine and thus stability. "But we are well aware of the need to look out for new ideas, new topics and trends in this extraordinary genre of mountain film."
The "Fireside Talks" introduced in 2015 at Stieler-Haus achieved an expansion of the festival's intellectual dimension and political participation. Beyond that, all individuals involved in the running of the festival are devoted to upholding its unique "spirit": the picturesque landscape surrounding Lake Tegernsee, the small town flair and intimate atmosphere which makes film makers, audiences and their hosts feel so at home.
Bergzeit Guarantees Quality
Guarantors of quality and constancy are the team around Festival Director Michael Pause, the City of Tegernsee as festival host, the German Alpine Club (DAV) as non-material contributor, Bavarian Broadcasting (BR) and the Tegernseer Tal Tourismus GmbH as well as the festival's longterm main sponsor: Multi-channel mountain gear retailer Bergzeit has become an ideal partner for the people of Tegernsee. With Bergzeit they share not only a passion for the outdoors, but also for mountain film and the beautiful region around Lake Tegernsee.
Information and Programme: Sonderbüro Bergfilm-Festival Tegernsee, phone: +49-8022/1801-37 or 53, bergfilm@tegernsee.de, or via local Tourist Information Centres
Ticket Sales: Tourist Information Tegernsee, phone +49-8022-92738 – 60; tegernsee@tegernsee.com and online at www.bergfilm-tegernsee.de or www.muenchenticket.de.
The festival's print and online programmes contain detailed descriptions of all films and fringe events.
World Premiere and News from the Hubers
PT_02 Huber Boys 10/2018
Tegernsee Mountain Film, 16th International Festival from 17 – 21 October 2018
World Premiere and News from the Hubers
Apart from great cinema and intriguing shorts, Wednesday's festival opening night at 8 pm at Barocksaal also stages a world premiere: "Reiss di zsamm! Geduldsprobe am Cerro Kishtwar" (Pull Yourself Together! Ordeal at Cerro Kishtwar) presents a first ascent in the Indian Himalaya with Thomas Huber (who will be attending the Tegernsee Festival) and Swiss climbers Stephan Siegrist and Julian Zanker. This extraordinary achievement earned the three mountaineers a nomination for this year's coveted Piolet d'Or – a prestigious distinction for those involved in writing alpine history (repeat on Saturday, 8 pm, at Ludwig-Thoma-Saal).
Visitors can also admire the Huber Boys on the silver screen on Saturday, 8 pm at Medius ("100 Jahre Huberbuam – Bluad is dicker wia Wossa" / 100 Years of Huber Boys – Blood is Thicker than Water), on Friday, 8 pm at Ludwig-Thoma-Saal and on Saturday, 8 pm, at Sporthalle ("Thomas, der Huberbua" / Thomas, the Huber Boy). (All Huber Boy films are screened in German.)
Festival Fragments
PT_03_Festival Fragments 10/2018
Tegernsee Mountain Film, 16th International Festival from 17 – 21 October 2018
Critical Voices and Fireside Talk
Johannes Hagn (Mayor of the City of Tegernsee) is a major force in the momentum to bring critical voices on hot topics into focus in Tegernsee: "Tegernsee Mountain Film means excitement, means diversity — and this must also involve food for thought," the mayor states. Many films achieve this of course — often in subtle ways: Who would not be moved by the little girl in the Altai Mountains who has never heard anything about climate change, yet suddenly finds herself confronted with the tremendous consequences of this catastrophe in the making?
Another crucial aspect are the Fireside Talks at Stieler-Haus involving prominent minds (please also note the interview with Dr. Georg Bayerle). The fourth Fireside Talk focuses on a topic that currently greatly affects Lake Tegernsee: "Mass Tourism or Mountaineering Village" is its provocative title. Dr. Georg Bayerle from Bavarian Broadcasting (BR) will discuss the matter with the Mayor of Kreuth, Josef Bierschneider and East Tyrolean Christof Schett, who grew up in the exemplary mountaineering village of Villgratental and advocates for "gentle tourism". As always, guests of the Stieler-Haus Talk are invited to make lively contributions. After all, here at Lake Tegernsee, more specifically in the village of Kreuth, two opposed worlds collide: The German Alpine Club selected 13 of Kreuth's 17 districts to become part of the elusive community of mountaineering villages. However, many lakeside districts were explicitly excluded. After all, mountaineering villages are supposed to demonstrate that they can manage without macro-tourism structures such as large hotels and lifts. To whom belong the Alps of the future?
Date: Friday, 19 October, 4.30 pm at Stieler-Haus

Heinz Zak, Adam Ondra and the Art of Climbing
Heinz Zak's life has been defined by climbing and photography. He masters both arts. This much has become evident to Tegernsee audiences on several previous occasions. On Thursday, at 8 pm in the Sporthalle venue, the Tyrolean extreme climber and mountain photographer will once again be a special guest to the Mountain Film Festival.
During this talk, he will focus particularly on Adam Ondra. The Czech star athlete currently counts among the world's best climbers — which he demonstrated convincingly during the IFSC Climbing World Championship in Innsbruck. However, his achievements on "real" rock impress even more. Among other trips, Heinz Zak accompanied Adam to the Yosemite Valley's Dawn Wall: In November 2016, in only eight days and with breath-taking style, Adam sent the first repeat of the world's toughest multi-pitch route. A further product of this ingenious cooperation between the two masters is the new film "The Art of Climbing", which Heinz Zak of course brings with him to Tegernsee.
Date: Thursday, 18 October, 8 pm, Sporthalle
Great Homage to Norman Dyhrenfurth on Thursday
Between Mount Everest, the White House in Washington and Salzburg: The mountaineer and mountain film pioneer Norman Dyhrenfurth collected impressive images and experiences everywhere. He followed in the footsteps of his famous father, however not as a scientist, but rather as a mountaineer, expedition leader and film maker. When he died last year in September at the age of 99 in Salzburg, a richly fulfilled life came to its end. That much becomes clear from a look at his legacy during Thursday's retrospective:
During the first part, starting at 5 pm at Barocksaal, two of his documentaries will be screened. With "Americans on Everest" Dyhrenfurth documented a new chapter in high altitude mountaineering. During his 1963 expedition, he succeeded at bringing the first Americans to the summit, at completing the first traverse and at opening a new route to the highest place on earth. Even US President John F. Kennedy honoured Dyhrenfurth's achievement in the White House – allowing him to step completely out of the shadow of his famous father. Another cherished documentary is "Samsara – A Tibetan Heritage". After working in the Hollywood feature film scene, Dyhrenfurth returned to the land of the Sherpas, shooting this award-winning documentary about Tibetan funeral rites.
From 8 pm Festival Director Michael Pause recollects Dyhrenfurth's eventful life, together with interesting guests: Among them will be Dyhrenfurth's widow, Maria Sernetz-Dyhrenfurth, and Dr. Michael Bilic, Director of the Salzburg Mountain Film Festival, an intimate friend of many years to the family. Also present will be film maker Andreas Nickel, who shot an extensive documentary about the Dyhrenfurth family. "Zum dritten Pol" (To the Thirld Pole) is the title of another Dyhrenfurth film screened as part of the retrospective, along excerpts from other films.
Date: Thursday, 18 October, at 5 and 8 pm, Barocksaal
Summit Meeting and Diverse Fringe Programme
THE meeting point during the festival is the Rathaus Forum: at the "Gipfeltreff" summit meeting point all relevant and interesting information regarding the festival will be available, including tickets and the odd autograph visitors may acquire from film makers, alpinists or celebrity guests. Here, conversation flows easily over a nice glass of wine, delicious cheese or a cup of coffee. Between screenings, a visit to the Film Lounge will be rewarded with impressive images from the mountain world.
Spending entire days "just" staring at the silver screen? The charming mountains around Lake Tegernsee are too beautiful for that. A diverse fringe programme allows visitors to discover these magical environs at their best, for instance during an alpine hot air balloon ride, a guided hike — with a motto such as "Environmental Protection and Forestry" — or during an e-bike tour.
Interview with Dr. Georg Bayerle: Fireside Talks at the Mountain Film Festival
PT_04_Interview 10/2018
Tegernsee Mountain Film, 16th International Festival from 17 – 21 October 2018
Fireside Talks at the Tegernsee Mountain Film Festival
Dr. Georg Bayerle's contributions to "Bergauf-Bergab", Bavarian Broadcasting's (BR) TV mountaineering programme, always have a wholesome feel. For him, what's special need not be extreme and what's beautiful need not be spectacular. Still, Bayerle glances with harsh rather than soft focus at mountain realities and sensitively brings grievances to the light. This not only distinguishes him as an author for Bavarian Public Broadcasting, including radio and TV formats, but also as one of the Tegernsee Mountain Film Festival's earliest event hosts. When the team in 2015 looked for somebody to conduct the freshly inaugurated Fireside Talks, this old hand from the Allgäu was naturally a first choice as moderator. During the fourth Fireside Talk on Friday (19 October) at Stieler-Haus, Georg Bayerle will pose a question which is currently much discussed at Lake Tegernsee: Which tourism concept will win the upper hand: mass tourism or the mountaineering village? Let us cast a glance at the past as well as into the future.
Please explain: How does a Fireside Talk proceed and can the audience participate?
Yes, that is exactly what we want to happen. The beautiful Stieler House provides an intimate atmosphere, where we can talk freely and at our ease about any topic and get up-close with our conversation partners. Many special moments have occurred, when personal experiences and views of audience members contributed to the discussion.
Which of the three preceding Fireside Talks is a particularly enjoyable memory?
Each held its special fascination. Obviously, the presence of Norman Dyhrenfurth is unforgettable, the Swiss-American mountaineer and film maker who attended on the occasion of our Herrligkoffer Night. Or the renowned alpine researcher Werner Bätzing who attended our very first Fireside Talk. That discussion spontaneously turned into one about the Tegernsee Valley, which was lively and crucial. That is also the direction of this year's talk, on the occasion of Kreuth becoming an official mountaineering village.
Has any discussion provoked a "standoff" — and how did you react?
There have been differences of opinion, of course. When these are well substantiated, they are desirable and productive. If they turn into a dialogue between two opponents, I interrupt that process. However, if it might help us gain deeper insights, I guide the conversation in a way that explores valid arguments. Ideally, we all return home from these talks with new ideas.
Do you believe that this sort of event during a Mountain Film Festival can have a wider impact?
It is important to make people aware of the fact that the festival is more than mere entertainment packed with beautiful or spectacular images. The Fireside Talk actually is the most remarkable part of the programme, demonstrating that climbing, filming and traversing the mountains always has a societal dimension. Focusing attention on such matters creates an overall atmosphere that might make the event's contents impact in a more intense fashion.
You have been familiar with the Mountain Film Festival since its inception. What attracts you back as a volunteer every year?
That would be the conversations, the encounters at the fringe of events, the exchange with audiences and the special atmosphere which puts mountains centre stage. The highly sensory medium of film allows us to enthuse many for our subject. Just like during a long mountain tour, there are many stages during which I wonder what went well and what needs to be improved. The diversity of the films in itself is a journey of discovery around the globe and towards the most diverse mountain personalities.
How will the Festival need to evolve to ensure your future enthusiastic participation?
My wish for the Mountain Film Festival's future would be to see a great variety of films, including only very few commercial or advertising-related productions. I'd like to see films with an attitude that display a sharp mindset and a relevant perspective. High gloss and astounding shots are not enough. I'd also like to see these days around mountain film to become even more established, even more of a meeting place for mountain lovers and creatives.
Thematic Sets and Great Conversations
PT_05 Venues and Hosts 10/2018
Tegernsee Mountain Film, 16th International Festival from 17 – 21 October 2018
Thematic Sets and Great Conversations
Over five festival days, six venues will screen 90 films, grouped into different thematic sets. Except for the nonstop screenings, each set will be hosted by a moderator who provides relevant background information.
After this festival, alpine history might need to be re-written. A creative film maker takes off on a quest and discovers among ancient hemp ropes and tired hobnailed boots a previously unknown and rather mysterious alpine pioneer ("Florian's Last Climb", Friday, 8 pm, Schalthaus). Anyone looking for new perspectives and on-the-edge approaches will discover many contributions by courageous and experiment-driven authors and directors beside those of "Florian's Last Climb". The nonstop programme is a particularly worthwhile avenue. Here, beside repeats of high interest films, unusual productions find their place.
Fans of action and extreme sports will gather at the Medius venue, while the Sporthalle is going to screen potent blockbusters of the mountain film scene. Profound reflection, nature and wildlife documentaries as well as the mountain world's beauty take centre stage at the Ludwig-Thoma-Saal and Quirinal venues. The festival's main events naturally take place in the festive Tegernsee Castle ballroom: the Opening Night and Closing Night with awards ceremony as well as the German Alpine Club Night will take place at the Barocksaal.
As always, exceptions confirm the rule. Please make sure to carefully peruse the print or online programme and to discover all relevant information about the various events there.
Fascinating Films, Intriguing Backgrounds
They make the Mountain Film Festival into such a special event: the moderators who present all screened film sets — with the exception of the nonstop programme at Schalthaus. They command over background information regarding films and film makers. They facilitate interesting conversations with special festival guests and provide audiences with exciting details regarding the films' contents. Often, live interviews with intriguing and famous mountain personalities spur exciting discussions and draw in audience members. What questions will this year's audiences have? By the way: Should celebrities attend the nonstop screenings at Schalthaus, moderators will be at hand to provide relevant background facts.
Highlights and Insider Tips
PT_06_Highlights_Tips 10/2018
Tegernsee Mountain Film, 16th International Festival from 17 – 21 October 2018
Highlights and Insider Tips
Tuesday, 16 October
A must for true fans: Festival Director Michael Pause presents a selection of the best films from past Mountain Film Festivals at Ludwig-Thoma-Saal!
Wednesday, 17 October
This day's obvious highlight is the festive Opening Night at Barocksaal, including the world premiere of Thomas Huber's latest film. Thomas will attend the Tegernsee Festival, alongside many other celebrities.
However, Wednesday's most controversial films will be screened at Ludwig-Thoma-Saal: Under the heading "Future, Whereto?" three documentaries explore the consequences of mass tourism and/or climate change from vastly different vantage points, at Mt. Zugspitze, in the Berchtesgaden Region and in Mongolia. This set of films presents the ideal conversation starter for the Fireside Talk at Stieler-Haus on Friday.
Guests include the recipient of many awards, film maker Jürgen Eichinger, the editor Brigitte Kornberger (Bavarian Broadcasting) and possibly Gerhard Schmidt.
Thursday, 18 October
The core of this festival day is the Norman Dyhrenfurth retrospective at Barocksaal (5 and 8 pm). Special guests of the evening include Maria Sernetz-Dyhrenfurth, Dr. Michael Bilic and film maker Andreas Nickel.
Any talk given by Heinz Zak presents a highlight in itself (8 pm, Sporthalle). Two impressive personalities grace the Schalthaus venue from 8 pm onwards: A documentary traces the gripping life journey of Sir Christian Bonington, one of the world's most famous alpinists. Another trail blazer is climbing pioneer Bernd Arnold from Saxon Switzerland, as demonstrated by a short portrait of the septuagenarian.
Friday, 19 October
Friday's highlight event is the German Alpine Club Night, taking place simultaneously at Barocksaal and Sporthalle. Special guest is the extreme climber Hansjörg Auer.
Those who wish to have a say meet at 4.30 pm for the Fireside Talk at Stieler-Haus, which will deal with the question "Mass Tourism or mountaineering village: to whom belongs the future"?
The "Full Force" set of films at Quirinal is the insider tip of the day: "They just wanted to go mountaineering …" A young Nepalese bunch teams up with Munich Technical University to create a fantastic help-for-self-help project. Tegernsee Video Club's Heinrich Brunner created a highly watchable documentary from the team's footage — by the way, without Heinrich's vast support, this Mountain Film Festival would be unthinkable. Beforehand, an award-winning film from Nepal is on show, which reveals the consequences of the devastating 2015 earthquake.
Saturday, 20 October
The Closing Night represents the festival's greatest highlight (Please note: official start time is 7 pm.). Here, the festival prizes will be conferred and recipients will be present in person, as far as this can be arranged. Interesting encounters and exciting conversations are guaranteed — during the conferring of prizes as well as during the banquet afterwards. Every year, special guests fly in from around the globe.
As a new feature on Saturday, family cinema starts at 3 pm at Ludwig-Thoma-Saal. Considering the popularity of the children's cinema on the various mornings, the organising team decided to add a special screening for families to the programme.
Anyone who has not yet seen "The Dawn Wall" should definitely grab the last chance in the course of the festival at 4 pm at Barocksaal — definitely a worthwhile experience!
The day's insider film set starts at 8 pm at Quirinal and promises a highly diverse programme: It features likeable animated heroes, a mysterious crime thriller regarding alpine history, a beautiful ski tour through the wilderness of the Pyrenees and ends with extreme climbing in Tasmania and a free fall.
Sunday, 21 October
This day presents a single highlight, which has become a set date for mountain film freaks: the matinee at 9.30 am, screening all winning films at full length. The programme of films will be announced on Saturday night at all venues and will also be listed on bergfilm-tegernsee.de and on the Festival's Facebook page.
Fireside Chat in the Stieler-Haus
Whose is the Future? Mass Tourism or Mountaineering Village

Three months ago Kreuth joined the small number of Bavarian "mountaineering villages". However, not all of Kreuth: only 13 of its 17 districts, because those belonging to the residential community around Lake Tegernsee were explicitly excluded by the German Alpine Club. A mountaineering village must preserve its organically grown layout, protect the environment and not be marred by touristic mega-structures such as large-scale hotels, lifts and the like. Quite on the contrary: the point of mountaineering villages is to demonstrate that there is another way and how that can look. In the Tegernsee Valley, these two worlds collide. Perspectives for this co-existence and the general idea of mountaineering villages will be discussed by Dr. Georg Bayerle (Bavarian Broadcasting), Kreuth's Mayor Josef Bierschneider and the East Tyrol farmer and entrepreneur Josef Schett, who lives in a flagship mountaineering village in the Villgraten Valley.
Friday, 19 October 2018, 4.30 pm, Stieler-Haus
Tickets from 14 September at Tourist Information Centre, phone +49(0)8022-9273860, online or MünchenTicket.
The World's Hardest Climbing Routes
Talk by Heinz Zak
Young Adam Ondra from the Czech Republic undoubtedly counts among the world's best climbers. In the last couple of years, Adam has won just about every imaginable sports climbing competition in the areas of lead climbing and bouldering. What impresses the initiated even more are his individual achievements on the rock. For years, he has been raising the bar of what's possible in climbing further and further up. In November 2016 he achieved in only eight days and with breathtaking style the first repetition of the world's hardest multi-pitch route, the Dawn Wall on El Capitan in the Yosemite Valley.
Heinz Zak has accompanied, filmed and photographed the young climbing star at the Dawn Wall and on many other routes. Additionally, Heinz will screen exciting adventures with Alexander Huber and Fabian Buhl.
As the evening's highlight, Heinz will present the film "Die Kunst des Kletterns" (The Art of Climbing).
Thursday, 18 October 2018, 8 pm, Sporthalle
Tickets from 14 September at Tourist Information Centre, phone +49(0)8022-9273860, Online or MünchenTicket
Tegernsee Mountain Film Festival Programme 2018 available
Press Release – 09/2018
16th Tegernsee International Mountain Film Festival, 17 – 21 October 2018
Online and On Paper – Tegernsee Mountain Films
The plot thickens: A few days ago, the Tegernsee Mountain Film Festival programme went into print and is now also available online. There is something for every personal taste and interest — from fascinating landscape portraits to spectacular climbing films, from environmental issues to moving portraits of strong personalities.
After the "warm-up" on Tuesday with a number of winning films from the preceding year, the festival's kick-off evening on Wednesday already presents a tough choice to visitors: A total of 15 films is on show in five different venues. At Barocksaal, a veritable world premier will take place, when Thomas Huber presents his film about a breath-taking first ascent at Cerro Kishtwar. In 2017 he opened a daring route there together with rope partners Stephan Siegrist and Julian Zanker. Afterwards, the year's great mountaineering anniversary beckons, the first ascent on Mount Everest without bottled oxygen. Director of the retrospective and lead actor during its historical footage is the previous year's winner, Reinhold Messner. However, the competing programmes at other venues are also packed with impressive movies and issues. Here, Jürgen Eichinger addresses climate change in the mountains by looking at the example of Mt. Zugspitze. An audacious paraglider reaches heights of 8,000 m (26,250 ft) above the Karakoram. In contrast to all this, a quiet yet moving film depicts life on remote mountain farms.
A seamless programme with exciting topics and protagonists continues across the following days. Thursday's highlight ist the retrospective dedicated to Himalaya and mountain film pioneer Norman Dyhrenfurth (including a film about the 1963 US Everest expedition!). The German Alpine Club Night on Friday always presents special treats. This time, extreme climber Hansjörg Auer will be present. Saturday's final stretch of the movie marathon already starts at 10 am at Schalthaus.
Anyone wishing to keep a sense of overview should regularly check into the "Gipfeltreff" meeting point at the Tegernsee Rathaus and attend Saturday's Conferring of Prizes: Here, festival visitors from afar can meet the best film makers and savour samples from all winning films. Fortunately, Sunday presents another chance to see all award-winning films at full length. On to you: study the programme, fill your shopping basket, buy tickets and pack your bags for a trip to or short holiday at Lake Tegernsee.
Information: Sonderbüro Bergfilm-Festival Tegernsee, Rathausplatz 1, 83684 Tegernsee, Germany, phone +49(0)80221801-37. Box Office (from 14.09.2018) and print programme available from Tourist Information, tegernsee@tegernsee.com, phone +49(0)8022-9273860, online at: www.bergfilm-tegernsee.de or www.muenchenticket.de.
Call for Entries for the 16th Tegernsee Internationals Mountain Film Festival sent out
Bergfilm Tegernsee, 16th International Festival from 17 – 21 October 2018
The Courage to Make Images Impact
Amazement and enjoyment, compassion and thoughtfulness — mountain films cater the entire range, from thriller to quiet art enjoyment. The list of winning films from the past 15 Tegernsee Mountain Film Festivals demonstrates this amply, and mountain film makers of the 2018 Festival shall render further evidence.
Submit new productions now!
More than 1400 "Call for Entries" were sent all over the world. Until end of May film makers can submit their latest productions from the high-contrast world of the mountains. Only films that were produced after 2015 are accepted into the competition, whose three main categories aim at different thematic aspects of mountain film. The category Mountain Experience puts alpinism and sportive encounters with the mountains centre stage. The best film in this category will be awarded the Prize by the German Alpine Club (Deutscher Alpenverein). Landscape portraits and inquiries into environmental issues are the focus of the category Mountain Nature, whose prize is awarded by the Festival's main sponsor "bergzeit". The third category, Mountain Life, looks for films that take stock of ethnological and cultural aspects in the encounter between people and mountains. The best film across all categories will be awarded the Great Prize of the City of Tegernsee (worth 3,000 euros). The most outstanding junior film maker (under the age of 32) will receive the Otto Guggenbichler Prize, named after the Mountain Film Festival's founder. Finally, viewers vote for the "Audience Prize" (worth 1,000 euros).
Contact and Information:
Internationales Bergfilm-Festival Tegernsee
c/o Rathaus Tegernsee
Rathausplatz 1
83684 Tegernsee
Germany
Tel: +49 (0) 8022/1801-37 or -53
Email: bergfilm@tegernsee.de
Link to Call for Entries and online registration:
https://www.bergfilm-tegernsee.de/en/2018-3/competition/
Winning Films – 15th Tegernsee International Mountain Film Festival 2017 / PT04 – October 21st 2017
15th Tegernsee International Mountain Film Festival
Winning Films 2017

Great Prize by the City of Tegernsee (€ 3,000,-)
"Still Alive – Drama am Mount Kenya" by Reinhold Messner (Austria)
Prize by the German Alpine Club for the Best Alpine Film in the Category of "Mountain Experience" (€ 1,000,-)
"Last Exit" by Puria Ravahi (Germany)
Best Film in the Category "Mountain Life" (€ 1,000,-)
"Becoming who I was" by Chang-Yong Moon and Jin Jeon (South Korea)
Bergzeit Prize for the Best Film in the Category "Mountain Nature" (€ 1,000,-)
"Dessine-mois un chamois" (Draw Me a Chamois) by Véronique, Anne and Erik Lapied (France)
Otto Guggenbichler Prize for a Junior Filmmaker (€ 1,000,-)
"A mords Sauhaufen in a z'kloan Zelt" (A Bunch of Nutters in a Tiny Tent) by Simon Platzer, Johannes Hoffmann and Jakob Schweighofer (Austria)
Honourable Mentions by the Jury (non-cash prizes)
"Dirtbag: The Legend of Fred Beckey" by Dave O'Leske (USA)
"Sloboda pod nákladom – Freedom under Load" by Pavol Barabáš (Slovakia)
"Symphony on Skis" by Carla Braun-Elwert (New Zealand)
"Dhaulagiri – Ascenso al la montaña blanca" (Ascending the White Mountain) by Cristián Harbaruk and Guillermo Glass (Argentina)
Bayern 2 – Audience Prize (€ 1,000,-)
"Symphony on Skis" by Carla Braun-Elwert (New Zealand)
Small Festival Prize, Audience Prize for the best Children's and Young Adult Film (€ 500)
"Heimliche Helden – Keas in Neuseeland" (Secret Heros — Keas in New Zealand) by Volker Arzt, Angelika Sigl (Germany)
Jury Statement – 15th Tegernsee International Mountain Film Festival 2017 – PT05 – October 21st, 2017
Jury-Statement
15th Tegernsee International Mountain Film Festival – 18 – 22 Oct. 2017
HONOURABLE MENTIONS:
"Dirtbag: The Legend of Fred Beckey" (Dave O'Leske, USA)
In a humorous ways, we are presented with the life story of a US mountaineering legend. Fred Beckey still climbs at age 93.
"Sloboda pod nákladom – Freedom under Load" (Pavol Barabaš, Slowakia)
Few people know about this mountain profession surviving in the High Tatra: men carry extreme loads across vertiginous paths to the mountain huts. Moving interviews and outstanding cinematography.
"Dhaulagiri – Ascenso al la montaña blanca" (Cristián Harbaruk and Guillermo Glass, Argentina)
A violent disagreement results in tragedy on the mountain. A film that raises many questions regarding the dreams, friendships and risks of Alpinism through the medium of compelling images.
"Symphony on Skis" (Carla Braun-Elwert, New Zealand)
Two young women cross the glaciers of New Zealand from ocean to ocean. They follow a route in remembrance of their deceased father who once as a mountain guide accomplished a record time traverse. A very worthwhile montage of archive material and fascinating landscape images.
Tegernsee Mountain Film Festival 2017 – Opening
Opening 19/10/2017 PressRelease01_Opening
Tegernsee Mountain Film, 15th International Festival, 18 – 22 October 2017
Thrill-Seekers on Narrow Ridges
A drone embarks towards new horizons, flies into a world beyond the Tegernsee mountains on the hunt for the most beautiful images — this new trailer kicked off the 15th Mountain Film Festival. On board: not only the most unique films, but also the people who used their imagination and creativity to successfully innovate narratives that enthuse their viewers and "get under their skin".
It is Wednesday evening. The first guests jostle in front of the screening venues and the jury has already completed a film-viewing marathon. While outdoors, the last mild sunrays hit, freezing cold is captured on the indoor silver screens. The decision has almost been finalised. However, jury members Helmut Scheben (Switzerland), Julia Brunner (Austria), Mojca Volkar Trobevšek (Slovenia), Benedikt Kuby (Germany) and Martin Kaufmann (Italy) would like to take a second look at some of the competing films. The bunch of nutters from "A mords Sauhaufen in a z'kloan Zelt" will therefore once more fly across the universe in their tiny tent to reach the steepest chutes. Those snowboard die-hards are sick! The jury attributes a couple of extra points. After what felt like a hundred hours in a darkened room, the world starts to look a bit different. Is that going to translate into a prize though? Even the Tegernsee festival audience has rarely been exposed to so many new ideas, deeply moving experiences and fascinating images as this year.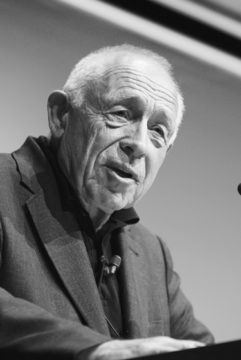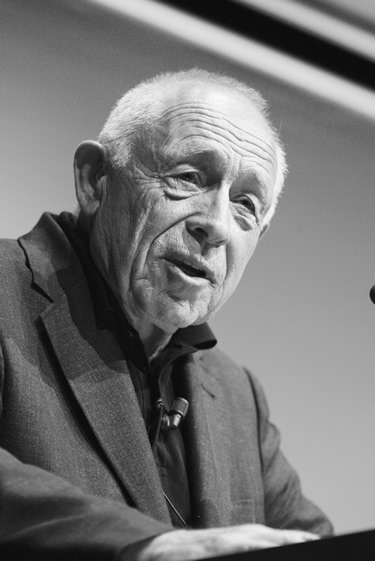 Obituary Dr. Heiner Geissler
When a Smile Remains
On September 12th, Tegernsee Mountain Film Festival Patron Heiner Geißler died at the age of 87.
"When a person still has a smile left at the end of their life, that's a very decent net gain." Not only his invariably apt, memorable words will be missed — Heiner Geißler leaves the Tegernsee Mountain Film Festival with a void: as its patron, but primarily as a cherished individual and friend.