News
Winning Films – 15th Tegernsee International Mountain Film Festival 2017 / PT04 – October 21st 2017
15th Tegernsee International Mountain Film Festival
Winning Films 2017

Great Prize by the City of Tegernsee (€ 3,000,-)
"Still Alive – Drama am Mount Kenya" by Reinhold Messner (Austria)
Prize by the German Alpine Club for the Best Alpine Film in the Category of "Mountain Experience" (€ 1,000,-)
"Last Exit" by Puria Ravahi (Germany)
Best Film in the Category "Mountain Life" (€ 1,000,-)
"Becoming who I was" by Chang-Yong Moon and Jin Jeon (South Korea)
Bergzeit Prize for the Best Film in the Category "Mountain Nature" (€ 1,000,-)
"Dessine-mois un chamois" (Draw Me a Chamois) by Véronique, Anne and Erik Lapied (France)
Otto Guggenbichler Prize for a Junior Filmmaker (€ 1,000,-)
"A mords Sauhaufen in a z'kloan Zelt" (A Bunch of Nutters in a Tiny Tent) by Simon Platzer, Johannes Hoffmann and Jakob Schweighofer (Austria)
Honourable Mentions by the Jury (non-cash prizes)
"Dirtbag: The Legend of Fred Beckey" by Dave O'Leske (USA)
"Sloboda pod nákladom – Freedom under Load" by Pavol Barabáš (Slovakia)
"Symphony on Skis" by Carla Braun-Elwert (New Zealand)
"Dhaulagiri – Ascenso al la montaña blanca" (Ascending the White Mountain) by Cristián Harbaruk and Guillermo Glass (Argentina)
Bayern 2 – Audience Prize (€ 1,000,-)
"Symphony on Skis" by Carla Braun-Elwert (New Zealand)
Small Festival Prize, Audience Prize for the best Children's and Young Adult Film (€ 500)
"Heimliche Helden – Keas in Neuseeland" (Secret Heros — Keas in New Zealand) by Volker Arzt, Angelika Sigl (Germany)
Jury Statement – 15th Tegernsee International Mountain Film Festival 2017 – PT05 – October 21st, 2017
Jury-Statement
15th Tegernsee International Mountain Film Festival – 18 – 22 Oct. 2017
HONOURABLE MENTIONS:
"Dirtbag: The Legend of Fred Beckey" (Dave O'Leske, USA)
In a humorous ways, we are presented with the life story of a US mountaineering legend. Fred Beckey still climbs at age 93.
"Sloboda pod nákladom – Freedom under Load" (Pavol Barabaš, Slowakia)
Few people know about this mountain profession surviving in the High Tatra: men carry extreme loads across vertiginous paths to the mountain huts. Moving interviews and outstanding cinematography.
"Dhaulagiri – Ascenso al la montaña blanca" (Cristián Harbaruk and Guillermo Glass, Argentina)
A violent disagreement results in tragedy on the mountain. A film that raises many questions regarding the dreams, friendships and risks of Alpinism through the medium of compelling images.
"Symphony on Skis" (Carla Braun-Elwert, New Zealand)
Two young women cross the glaciers of New Zealand from ocean to ocean. They follow a route in remembrance of their deceased father who once as a mountain guide accomplished a record time traverse. A very worthwhile montage of archive material and fascinating landscape images.
Tegernsee Mountain Film Festival 2017 – Opening
Opening 19/10/2017 PressRelease01_Opening
Tegernsee Mountain Film, 15th International Festival, 18 – 22 October 2017
Thrill-Seekers on Narrow Ridges
A drone embarks towards new horizons, flies into a world beyond the Tegernsee mountains on the hunt for the most beautiful images — this new trailer kicked off the 15th Mountain Film Festival. On board: not only the most unique films, but also the people who used their imagination and creativity to successfully innovate narratives that enthuse their viewers and "get under their skin".
It is Wednesday evening. The first guests jostle in front of the screening venues and the jury has already completed a film-viewing marathon. While outdoors, the last mild sunrays hit, freezing cold is captured on the indoor silver screens. The decision has almost been finalised. However, jury members Helmut Scheben (Switzerland), Julia Brunner (Austria), Mojca Volkar Trobevšek (Slovenia), Benedikt Kuby (Germany) and Martin Kaufmann (Italy) would like to take a second look at some of the competing films. The bunch of nutters from "A mords Sauhaufen in a z'kloan Zelt" will therefore once more fly across the universe in their tiny tent to reach the steepest chutes. Those snowboard die-hards are sick! The jury attributes a couple of extra points. After what felt like a hundred hours in a darkened room, the world starts to look a bit different. Is that going to translate into a prize though? Even the Tegernsee festival audience has rarely been exposed to so many new ideas, deeply moving experiences and fascinating images as this year.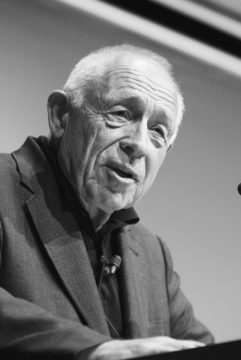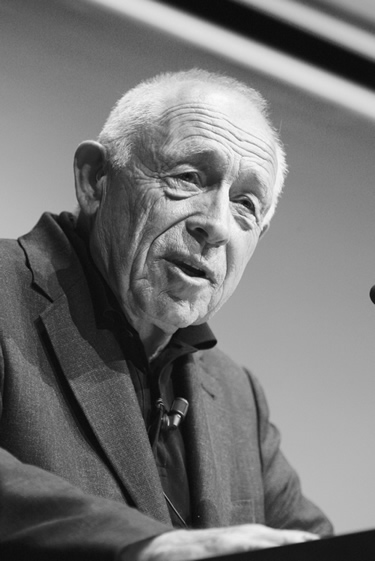 Obituary Dr. Heiner Geissler
When a Smile Remains
On September 12th, Tegernsee Mountain Film Festival Patron Heiner Geißler died at the age of 87.
"When a person still has a smile left at the end of their life, that's a very decent net gain." Not only his invariably apt, memorable words will be missed — Heiner Geißler leaves the Tegernsee Mountain Film Festival with a void: as its patron, but primarily as a cherished individual and friend.