Obituary Dr. Heiner Geissler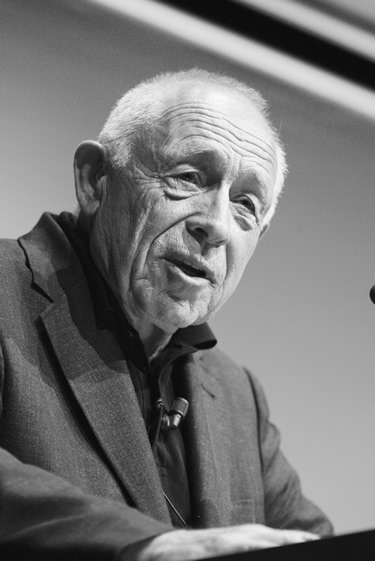 When a Smile Remains
On September 12th, Tegernsee Mountain Film Festival Patron Heiner Geißler died at the age of 87.
"When a person still has a smile left at the end of their life, that's a very decent net gain." Not only his invariably apt, memorable words will be missed — Heiner Geißler leaves the Tegernsee Mountain Film Festival with a void: as its patron, but primarily as a cherished individual and friend.

When former Mayor Peter Janssen, Otto Guggenbichler and Festival Director Michael Pause put together the first Mountain Film Festival 15 years ago, Janssen did not have to plead with his friend Heiner Geißler very much. Despite his crammed schedule, the enthusiastic mountaineer and paraglider immediately agreed to take on the patronage — and not just on paper. Geißler's appearances always provided highlights to the Mountain Film Festival, for instance during last October's Awards Ceremony. None of those present in the baroque hall will have forgotten how he raised the question, "whether the gross national product truly matters most in life". And continued to say: "It neither reflects the relevance of nature for the maturing of children nor the courage of mountaineers and omits the beauty of mountain meadow flowers." Poignant speech rather than hollow phrases was his hallmark.
"His journeys to Tegernsee were never short calls of duty, rather it was evidently a heartfelt desire to mingle with the family of mountain friends and film makers," Michael Pause remembers. A deep friendship connected Heiner Geißler especially to Peter Janssen, who currently presides over the Society of Tegernsee Mountain Film Friends (Bergfilmfreunde Tegernsee). "For him, it was not about fame and honour. It was about being needed," Janssen explains.
When asked by a radio journalist during his 2016 Tegernsee visit what his last good deed had been, Geißler answered with a smirk: "Coming to Tegernsee as the Mountain Film Festival's Patron." — Thank you so much, Heiner Geißler!